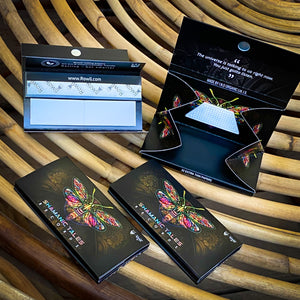 1 ROLLING PAPERS €10
3 ROLLING PAPERS €15
**Anyone ordering this product from our website will be deemed to be at least 21**
 The Rowller - grind your herb on the go (A strong and durable layer of recycled plastic, with 8 lines of a total of 100 razor sharp spikes to grind your herb to perfection but safe enough to use with your fingers. Enjoy a brilliant grinding experience)
 Folding Tray - store your herbs inside the folding tray.
Funnel - spill your herb easily.
 100% organic Hemp Rolling papers - 32 extra thin papers, made from the finest 
quality, natural, environmentally friendly Eco materials. Contain no colors, no flavorings and no burn additives. Classic & Unbleached natural, slow and unified burning rolling papers.

 Hemp Filter tips - 32 classic filter tips.
 Magnetic closure.
Width: 112 mm//Height:55mm//Depth:10mm//Weight:27g
**Warning**Smoking seriously harms you and others around you